Darkness ➡ Light
WAKE UP AND LET'S BE KIND
Designing the new tee for DIL 2018 is by far biggest thing that has happened for Bee Pea Be. We genuinely couldn't think of a better cause to be involved with a matter so close to our hearts, organised by inspirations of ours (if we grow up we would feel like heroes if we did a quarter of the work of these heroes). Absolutely Anthony Stoked, in complete awe and eternally grateful for all the little angels that have given us this opportunity. Thank you if you're reading this. The universe works in lully little ways.
If you haven't done a Darkness into Light walk and have been affected by mental illness directly or indirectly, I promise you this is the most important thing you can do. Nothing will make you feel less isolated walking in seas of yellow tees. It's so invigorating to know you're not alone, it's so invigorating to know there's help, it's so invigorating to know there hope.
It's actually the most astounding event in the world. There are people in the middle east risking their lives to walk, people in prison, people in lovely warm beds all across the globe getting up and marching together simultaneously as a little army of love and hope. Showing people they haven't even met yet that they care.
---
To join the expected 200,000 participants across the globe, walkers can register online at www.darknessintolight.ie (or there's a little button below) in advance of the event, and by May 4th to receive their tenth anniversary Darkness Into Light T-shirt. THAT WE DESIGNED!!
It's a mad story, DIL has grown from a couple of people ten years ago waking and walking with one common misson in mind, to raise around suicide and self-harm. Now, after a decade, over 200,000 (WTF) will walk from the darkness at 4.15am, a 5 kilometre route while the dawn is breaking. It's an absolute spectacular display of love, hope and unity. Funds raised from Darkness Into Light help keep Pieta House's counselling services free to those in suicidal crisis, people who engage in self-harm, and those bereaved by suicide.
---
Darkness Into Light (DIL) started with approximately 400 people in the now iconic yellow DIL T-shirts walking the 5km course in Dublin's Phoenix Park in 2009. This year, we will have roughly 180 DIL venues across Ireland and worldwide. Last year we had 180,000 people sharing the light and helping us to promote suicide prevention and to tackle the stigma that leads people to the doors of Pieta House centres. Please join us on Saturday 12th May this year!
---
To begin the design I began by combining some album artwork of Joy Division (Chaos) into a New Order (Structure) by Peter Saville as a foundation. I also used my interpretation of Darkness into Light as the concrete foundation; the concept of hope, unity, community and an emergence of light from a dark valley. I felt obliged to incorporate these into the design.
In my concept image, the rising sun or New Order's 'Blue Mondays' record symoblises the new light, the emergence of hope and that life can progress for the people who have been grieving and are affected by suicide.

---
The 'unknown pleasures' artwork of pulses (tap to find out what these pulses are) or mountains resembles the turmoil, struggle and the horrific path / journey take to become New Order but this also exemplifies my own personal journey with mental illness . A few years ago, if my own mind had it's own way, I would've ended my life. Luckily enough I was blessed enough to have loving and persistent family and friends, and some exceptional services available to me. It's been a horrific and treacherous tight-rope which I've had to balance, but I count myself very lucky I never ended my life, and now as I have began to find my purpose and the more I learn about myself as my mind progresses, the better I get at balancing the chaos and the structure, the polarities, the yin and the yang and I am forever grateful I made that journey, with the help of other. Sometimes I am very thankful for my "illnesses" too, not all the time but I think I need to suffer to progress, and if I was eternally happy I would become numb.

The reflection of the city on the river also symbolises the yin and the yang, but it also symbolises the skewed views you adapt when mentally ill. The graffiti / paint splashes also represent a the dark and disruptive thought process when suffering with a mental illness where even the most beautiful and simple can be tarnished and unclear.
The three suns symbolise a few things : unification and a progression from darkness into light, (the stages of a sunrise). The 3 suns also illustrate a unification or a communal feel. This is a metaphor for the Darkness into Light campaign in many factors. I think isolation is the worst factor of mental illness. While some find solitude in isolation, I think a solitary sun can only shine having progressed with many other factors. I have found from learning CBT that in the biological, psychological and social model, the social component is equally as important as your biological, and psychological health. We are social beings.
The handwriting is to disrupt the overly design feel and add a more gestural and human aspect. It's also just to make it a bit cooler #urban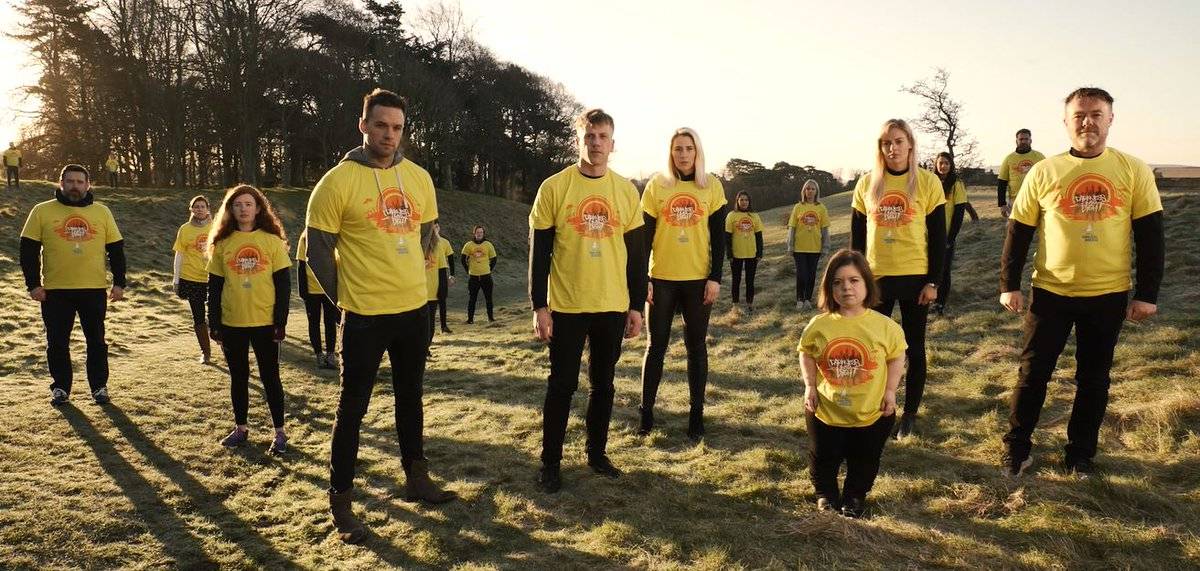 walk with the bipolar bears
We will be walking with an army of like-minded and lovely folk in the town of Arklow, Co. Wicklow. Please come and join us and other in our attempt to smash the stigma that surrounding mental illness, and meanwhile create well need funds for .
---
---